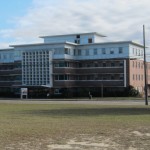 The Emerald Coast Utilities Authority (ECUA) has purchased the former Palafox Medical Center Clinic at 1750 North Palafox Street. ECUA has intentions of building tanks for the emergency storage of untreated sewage. It will either be two 3-million gallon tanks, or two 4-million gallon tanks. They hope to build on the lower portion of the property, but this is only 14 feet lower than the front half of the property, so the 45-foot tall tanks will still be highly visible from Palafox Street and nearby homes and businesses. ECUA has been much in the news lately with Public Hearings scheduled for the residents of Pensacola Beach prior to their acquisition and placement of a proposed site of a 2.4 million gallon clean water tank, so residents were concerned why this 6-8 million gallon tank(s) project received NO public notice, no public hearings, and no mention of this needed project or intended land use in their published minutes or agendas for the last year. ECUA staff confirmed on February 8th that no research was completed with the City Planning and Inspections department to see if these tanks were allowed in this zoning district, and no geotechnical surveys were completed to see if these tanks could even be installed on this property before they purchased it.

ECUA states that the potential impact area of this project will be: East Hill, Old East Hill, Cottages at Davis, Guillemard Square, Old East King Cottages, Westpointe Heritage, North Highlands, North Hill, and Long Hollow Neighborhoods.
Please enjoy our VIDEO of the proposed site and its relationship to the neighborhoods of North Hill, Long Hollow, Eastside, Old East Hill, the public's Conservation District, and the Hollice Williams Park where our community's swimming pool, basketball courts, tennis courts, football/soccer fields, and future skateboard park are located.
ECUA Contact Info:
ECUA Chairman, Lois Benson, lois.h.benson@gmail.com
ECUA Vice-Chairman, Dale Perkins, daleperk@aol.com
Our ECUA District 3 representative is Elvin McCorvey, elvin.mccorvey@ecua.fl.gov
ECUA Member, Vicki Campbell, Vicki.campbell@ecua.fl.gov
ECUA Member, Dr. Larry Walter, larry.walker@ecua.fl.gov
________________________________________________
City Contact Info:
Mayor of Pensacola, Ashton Hayward, mayorhayward@cityofpensacola.com
Our City Council District Representative, Brian Spencer, bspencer@cityofpensacola.com
Our At-Large City Council Representative, Charles Bare, cbare@cityofpensacola.com