North Hill is home to a rich and diverse heritage whose resources we work to preserve and protect for future generations to enjoy. On the western edge of North Hill, between A & B Streets, lies two of Pensacola's oldest African-American cemeteries, Magnolia Cemetery, established in 1882 from Brainerd Street north to just before Lloyd Street, and A.M.E. Zion Cemetery, established in 1886, from Gonzalez Street south to Strong Street. In Pensacola, our historic cemeteries are open-air museums that reflect a rich cultural heritage.
In late 2013, the Pensacola Area Cemetery Team (PACT) was organized to address issues associated with Pensacola's historic cemeteries. Professionals from the University of West Florida (UWF) Division of Anthropology and Archaeology, in addition to UWF Florida Public Archaeology Network (FPAN), came together and have spearheaded the restoration, repair, and research into these cemeteries and today they are once again community assets that contribute to a "sense of place" for residents and visitors alike.
Project abstract:
Like all historic cemeteries, Pensacola's historic African American burial grounds are outdoor museums that reflect cultural attitudes and adaptations. The vernacular markers that dot early 20th-century African American cemeteries in Pensacola are not merely physical marks on the
landscape – they have a powerful story to tell about the African American community as a whole. The story of Pensacola's vernacular cemetery markers encompasses individuals, occupations, ideologies, and expressions. Through a series of professional talks and tours and the development of interpretative materials, the story of Pensacola's African American
cemeteries will begin to emerge. By bringing this story forward we will be sharing the story of Pensacola's historic African American cemeteries and we will also be weaving the threads of our story into an expanding tapestry that tells the story of Florida's historic African American
burial grounds. Looking beyond local significance, Florida's historic African American cemeteries are threads in the greater story that link us, as Floridians, to a regional, national, and world tapestry.
Special thanks to City Councilman Brian Spencer and to County Commissioner Lumon May for using some of their discretionary funds in their budgets to help finance the much needed landscape maintenance.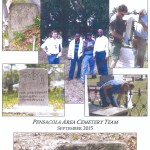 PACT Cemetery Stewardship Manual